Blog
Autumn Escapes in Flagstaff: Embrace the Beauty of Fall in Arizona's Desert Oasis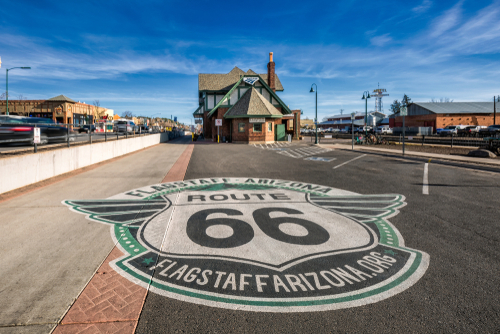 When it comes to autumn getaways, many people think of colorful foliage and pumpkin patches. However, the desert oasis of Flagstaff, Arizona, offers a unique and breathtaking experience during the fall season. From awe-inspiring landscapes to outdoor adventures, Flagstaff is the perfect destination to embrace the beauty of autumn. In this blog post, we will explore the top autumn escapes in Flagstaff that will leave you in awe of nature's wonders.
1. Explore Coconino National Forest:
Coconino National Forest comes alive with vibrant autumn colors during the fall season. Take a hike through the forest and immerse yourself in the stunning scenery. The golden leaves of aspen trees and the crimson hues of oaks and maples create a picturesque landscape. Don't forget to bring your camera to capture the beauty of nature as you wander through the forest trails.
2. Visit Lava River Cave:
Escape the heat of the desert and explore the unique Lava River Cave in Flagstaff. This volcanic cave formed by ancient lava flows offers a one-of-a-kind adventure. As you make your way through the cave's dark and narrow passages, you'll be surrounded by the eerie quietness and awe-inspiring beauty of the natural lava formations. The cool temperature inside the cave provides a refreshing break from the Arizona sun.
3. Take a Scenic Drive:
Flagstaff boasts some of the most scenic drives in Arizona, especially during the fall season. Take a leisurely drive along the Oak Creek Canyon Scenic Drive and marvel at the stunning autumn foliage. The golden hues of the trees contrasting against the red cliffs create a breathtaking sight. Another popular scenic drive is the Snowbowl Road, which offers panoramic views of the surrounding mountains and forests.
4. Enjoy Outdoor Activities:
Flagstaff's moderate fall weather provides the perfect opportunity for outdoor activities. Head to the Walnut Canyon National Monument and explore the ancient cliff dwellings while enjoying the crisp autumn air. Go hiking or mountain biking on the many trails in the area, such as the Arizona Trail or the popular Humphreys Peak Trail. For a more adventurous escape, try your hand at rock climbing or zip-lining at Flagstaff Extreme Adventure Course.
5. Experience Flagstaff's Festivals and Events:
Fall in Flagstaff is rich with festivals and events that celebrate the season's beauty. Attend the Flagstaff Oktoberfest and indulge in traditional German food, beer, and live music. The Flagstaff Festival of Science offers a unique opportunity to learn about the wonders of nature through engaging lectures and hands-on activities. Be sure to check the local event calendar to see what festivals or events are happening during your visit.
6. Discover Historic Route 66:
Flagstaff is known as the gateway to Route 66, and exploring this iconic highway is a must during your autumn escape. Wander through the historic district and visit charming shops, art galleries, and restaurants. Stop by the Flagstaff Visitor Center and pick up a Route 66 souvenir to commemorate your visit. Don't forget to take a photo with the iconic Route 66 sign for the perfect Instagram-worthy moment.
7. Indulge in Local Cuisine:
Fall is a season of harvest, and Flagstaff's culinary scene offers a delightful array of flavors and local ingredients. Treat yourself to a farm-to-table dining experience or visit one of the many breweries in the area to sample craft beers infused with autumn flavors. Don't miss the chance to taste locally roasted coffee from one of Flagstaff's cozy cafes to warm up during the cool autumn mornings.
Conclusion:
Flagstaff, Arizona, is a hidden gem for autumn escapes, offering a unique and breathtaking experience for nature lovers and outdoor enthusiasts. From exploring Coconino National Forest to visiting historic Route 66, there are endless possibilities to embrace the beauty of fall in this desert oasis. Plan your autumn getaway to Flagstaff today and create unforgettable memories surrounded by stunning landscapes and vibrant colors.
Got Questions? Let Us Help!
Arizona Vacation Rental Homes is your locally owned and operated vacation rental service. Since 2003, we have provided beautiful vacation homes to clients from around the country. Our beautiful, unique locations provide a relaxing and refreshing environment that allows you access to beautiful views, nature, and much more! Our unique rentals are the perfect venues for small weddings, reunions, or getaways!
Give us a call today
to make your reservations!
---
‹ Back