Blog
Things To Do In Flagstaff, AZ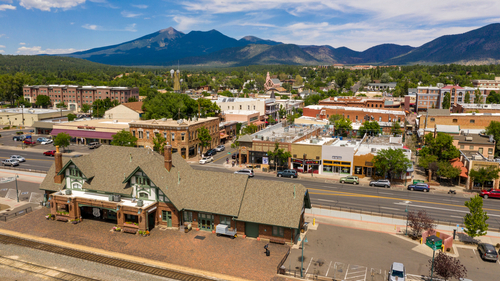 Things To Do In Flagstaff, AZ
If you're
looking for a place to get out and enjoy the great outdoors in Arizona
, Flagstaff is one of the best options! It's nestled in Coconino National Forest and only a short drive from Grand Canyon National Park and other major attractions. The city's pioneer past blends with modern-day innovation to create a destination filled with fun things to do both inside and out. Here are a few of the most exciting options to get your feet wet in Flagstaff!
1. Hike The Lava River Cave
One of Flagstaff's most unique and awe-inspiring experiences is hiking through the Lava River Cave. It's one of the longest lava tubes in Arizona, formed 700,000 years ago when molten lava erupted from a vent near Hart Prairie. The top, sides, and bottom of the lava flow cooled and solidified while lava in the middle continued to flow, hollowing out the lava rock into a tube. The resulting cavern is considered a "natural museum" and a moment frozen in time.
2. Visit The Geekery
If you want to have a fun day indoors, then visit the Geekery gaming experience. This family friendly establishment is tucked away in a mall and offers games for all ages. It's an ideal place to play a game on an unexpected rainy day! Or if you're traveling with the kids, it's a great option for getting out and doing something together.
3. Go Stargazing At Lowell Observatory
During the day,
Flagstaff is an enjoyable vacation destination
, but at night it becomes a stargazing wonderland. Located in the high desert with clear, dark skies, Flagstaff is frequently ranked one of the top places to see the stars. At the Lowell Observatory, visitors can peer through world-class telescopes and learn about astronomy. They can also participate in night-time tours and lectures.
4. Take A Tour Of Riordan Mansion State Historic Park
If you're looking for a way to explore the past of Flagstaff, the Riordan Mansion State Historic Park is an excellent choice. It contains two connected mansions built in 1904 by influential brothers Michael and Timothy Riordan. Architect Charles Whittlesey designed both homes in the Arts and Crafts architectural movement. You'll get to see a taste of a bygone era while visiting this 13,000-square-foot property.
5. Have A Night Out At Monte Vista Lounge
The historic Hotel Monte Vista has a long and storied history. Originally built in 1927, it was Flagstaff's first and most famous Prohibition-era speakeasy. The hotel's infamous past is full of scandal and ghost stories that are sure to keep you on your toes. From murdered sex workers to bootleg tunnels and prohibition-era cocktail lounges, there is no shortage of mysteries to solve at the Hotel Monte Vista. But there is one room in the hotel that is particularly spooky- Room 306, where a grizzly pair of murderers took their lives while celebrating their successful bank robbery.
6. Visit The Pioneer Museum
Located in a former Coconino County Hospital for the Indigent, this historic museum is filled with historical artifacts from Flagstaff's pioneer past. Exhibits include livestock working equipment, medical items and household wares. A 1908 homesteader's cabin and a 1929 Baldwin articulated locomotive are also on display here. Festivals and events take place throughout the year on the grounds.
7. Take A Tour Of The Orpheum Theater
Located in Historic Downtown Flagstaff, the Orpheum Theater has been a cherished venue for entertainment and community events for over a century. Originally built as the Majestic Opera House in 1911, it was rebuilt and renamed the Orpheum Theatre in 1917. A historic icon of entertainment, The Orpheum Theater is a beloved gathering place for hundreds of concerts and screenings each year. It has also served as a fundraiser and radio broadcasting station for many local organizations.
8. Explore The Public Art Of Flagstaff
Flagstaff is home to many world-renowned artists, and a vibrant Public Art Program. Explore more than 20 pieces of art within a 1.5-mile walkable loop of Historic Downtown, Southside Historic District and Northern Arizona University campus. While you're exploring, be sure to stop by the Museum of Northern Arizona. The museum is dedicated to the Native American history of Northern Arizona, and it features exhibits that encourage discussions about the preservation of the region's unique culture.
---
‹ Back