Blog
Things To Do In Or Near The Grand Canyon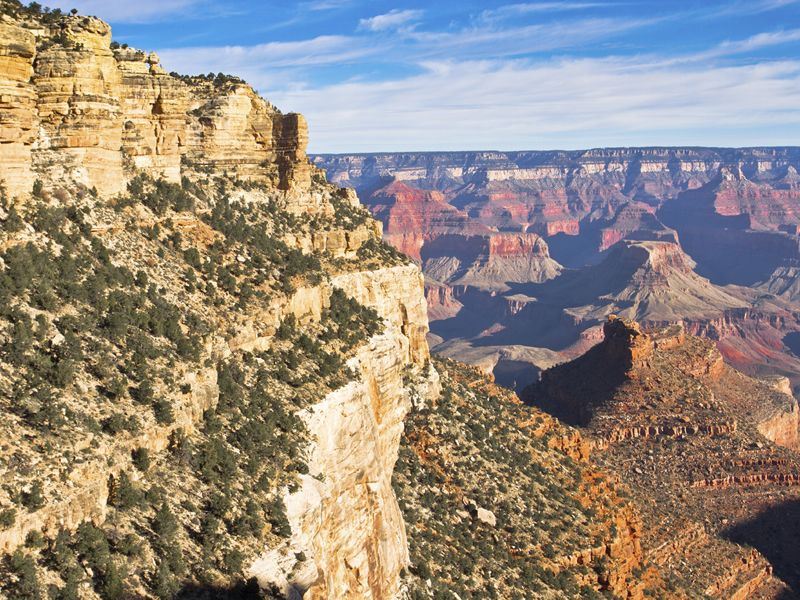 Things To Do In Or Near The Grand Canyon
The Grand Canyon is a natural wonder that will take your breath away. Its massive, layered bands of red rock reveal the canyon's millions of years of geological history. But if you're short on time or just want to experience the park in a more relaxed way, there are many things to do in or near the Grand Canyon that will make your trip one you'll never forget.
Hike The Bright Angel Trail
Hiking the Bright Angel Trail is a great way to experience the Grand Canyon. The trail is the most popular in the park and offers great views along the way. The first 1.5 miles of the Bright Angel Trail are known as Jacob's Ladder and descend at a steep 20-degree angle along the canyon walls, giving hikers incredible views of the basin below. This is a good starting point for hikers as it sees the least amount of sunlight and is very shady. As you begin your descent, you'll pass the Kolb Studio, where the brothers Ellsworth and Emery Kolb began their business selling photographs of the Grand Canyon. They were successful, and their studio is now perched on the rim of the canyon.
Take A Helicopter Tour
Taking a helicopter tour is one of the most unique and memorable experiences you can have during your trip to the Grand Canyon. Helicopters can take you to all sorts of incredible viewpoints in just a few minutes, so you'll never have the same view twice. Helicopter tours also provide endless opportunities for perfect overhead photos and live video of amazing views. This means that you can share these moments with your friends and family via social media channels.
Ride A Mule
Riding a mule is a unique and memorable experience. It allows you to see the Grand Canyon in a way that is not available from any other means. A mule's intelligence makes them more cautious and aware of their surroundings than horses. This instinct keeps them safe and makes them a good choice for trails that involve dangerous terrain. And while mules are not as responsive to a rider's commands as horses, they have a more steady gait that can be easier to control. They're also less likely to spook, which is useful on rocky and cliffside trails.
Visit The Tusayan Museum
The Tusayan Museum is a must-visit attraction for any Grand Canyon National Park visitor. Not only is it free of charge, but it's also a great way to learn more about the region's history. Located near Desert View, this small ruin and museum provides an overview of Pueblo Indian life around 800 years ago at the South Rim. You can see pottery, arrowheads and artifacts that date back 2000 to 4000 years. There's even a ranger walk where you can get a closer look at the ruins. It's a flat and easy trail that gives you good views of the ruins and surrounding area. The museum is a great place to learn more about the history of the area and its people. There are also several exhibits that cover the lives of five local tribes. These include 2,000-4,000 year old split twig animal figurines and handmade crafts by regional tribes.
---
‹ Back