Blog
Arizona Dream Weddings: Say 'I Do' in the Enchanting Desert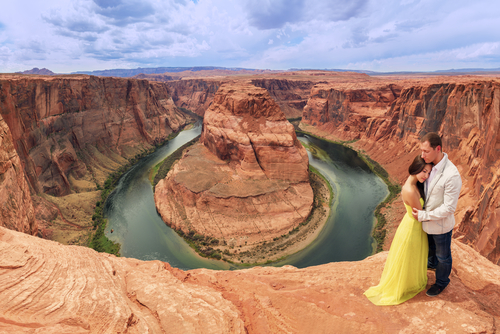 When it comes to wedding destinations, the enchanting desert landscapes of Arizona offer a unique and memorable backdrop for couples looking to say "I do." With its picturesque rock formations, breathtaking sunsets, and a wide range of venue options, Arizona provides the perfect setting for a dream wedding. In this blog post, we will explore why Arizona is an excellent choice for a destination wedding and share some tips to help you plan the perfect Arizona desert wedding.
1. The Allure of the Desert:
Choosing Arizona as your wedding destination means immersing yourself in the magical beauty of the desert. The stunning landscapes provide a distinct backdrop, from towering saguaro cacti to dramatic red rock formations. The warm, golden hues of the desert create a romantic and otherworldly atmosphere that truly sets your wedding apart.
2. Unique Venue Options:
Arizona offers an array of unique and stunning venue options to suit every couple's preferences. Whether you dream of an intimate outdoor ceremony in a secret garden or a grand celebration at a luxury resort, Arizona has it all. From rustic ranches to elegant ballrooms, there is a venue that perfectly matches your vision for your special day.
3. Perfect Weather:
One of the best things about an Arizona desert wedding is the near-perfect weather that the state boasts. With over 300 days of sunshine each year, you can expect fabulous weather for your wedding day. Spring and fall are particularly popular times to tie the knot in Arizona, as the temperatures are mild and comfortable.
4. Sunset Splendor:
One of the most breathtaking aspects of an Arizona desert wedding is the opportunity to exchange vows against a stunning sunset backdrop. The desert skies come alive with vibrant hues of orange, pink, and purple, creating a magical ambiance that will make your wedding truly unforgettable.
5. Outdoor Adventures for Guests:
For couples looking to provide their guests with a unique wedding experience, Arizona offers a wide range of outdoor adventures. From hot air balloon rides and hiking through scenic trails to exploring picturesque desert towns, there is no shortage of activities to keep your guests entertained before and after the wedding festivities.
6. Native American Culture:
Arizona is rich in Native American culture, and incorporating it into your wedding can add a meaningful and unique touch. Work with local vendors who specialize in Native American-inspired decor, cuisine, and entertainment to create a truly authentic experience for you and your guests.
7. Creative Desert-Inspired Decor:
The desert landscape provides ample inspiration for creative and unique wedding decor. From succulent centerpieces and desert wildflower bouquets to cacti-shaped placeholders and desert-themed signage, there are endless possibilities to infuse the beauty of the desert into every element of your wedding.
8. Tips for Planning an Arizona Desert Wedding:
- Start planning early to secure the perfect venue, as Arizona is a popular wedding destination.
- Consider hiring a local wedding planner who is familiar with the area and can help bring your vision to life.
- Provide sunscreen, parasols, or fans for your guests to stay comfortable during outdoor ceremonies.
- Incorporate local flavors into your menu, such as Southwestern cuisine or prickly pear margaritas.
- Ensure your guests are well-informed about the weather and suggest appropriate attire.
- Consider offering unique desert-inspired wedding favors, such as miniature succulents or locally crafted desert-themed souvenirs.
Conclusion:
From its breathtaking landscapes and unique venue options to its perfect weather and captivating sunsets, Arizona is a dream destination for couples seeking an enchanting desert wedding. With careful planning and attention to detail, your Arizona wedding will be a truly memorable and magical celebration. So, say 'I do' in the Arizona desert and let the beauty of the Southwest create lasting memories for you and your guests.
Got Questions? Let Us Help!
Arizona Vacation Rental Homes is your locally owned and operated vacation rental service. Since 2003, we have provided beautiful vacation homes to clients from around the country. Our beautiful, unique locations provide a relaxing and refreshing environment that allows you access to beautiful views, nature, and much more! Our unique rentals are the perfect venues for small weddings, reunions, or getaways!
Give us a call today
to make your reservations!
---
‹ Back